Ancona ducks
Anconas are a rare, heritage breed of duck known for being hardy, intelligent and skilled at foraging. They lay large eggs every day from late February through early September, depending on weather. During the warm season their foraging supplies almost the entirety of their diet (we supplement this with a small amount of corn to help lock them into the pen every night).
We raise black-and-white Ancona ducks, breeding them selectively for foraging capability and broodiness. They are free-range during the day and penned safely every night. We hatch extra ducklings under Silkie chicken hens, but several of our duck hens have successfully hatched and raised their own ducklings (a trait which many egg-laying breeds of duck have lost over the years).
Our ducks patrol the yard for bugs and, best of all, for mosquito larvae. We hardly ever need to wear bug spray, thanks entirely to our Ancona ducks.
The flock is also a joy to behold. As Carol Deppe mentions in her book,
The Resilient Gardener
, it is almost impossible to feel depressed while watching a flock of ducks foraging across a yard. These feathered clowns bob and dive around the lawn, jump to pick stinkbugs off of walls, charge after flies and moths, chase each other, waddle in neat lines from one spot to the next as a group, and quack loudly when they see their humans approaching ("feed us treats!"). We like to play "duck ball" by them tossing food scraps, such as cucumber ends and bits of tomatoes. The duck that gets to the food first picks it up and waddles away while the others chase it, then steal the "ball" and chase back around the yard until one finally stops to eat it.
Inquire by email about purchasing a breeding trio of purebred Ancona ducks from us!
---
free-range duck eggs
Treasured by bakers and foodies alike, duck eggs taste much like chicken eggs, but richer. Chefs and fans of Asian cuisine rely upon duck eggs for their moist, buttery taste and better binding power in baked goods. At home, one can use them for fried eggs, scrambled eggs, boiled eggs, tea eggs, omlets, etc--just be a little gentler in cooking. The proteins are tender and do best with a slightly lower heat and slightly longer cook time to compensate, which will render a soft, delicate and tasty egg!

Why are duck eggs so different?

Duck eggs have both more

protein

and more

fat

content, by percentage, than chicken eggs. They also tend to be about 20% larger than most chicken eggs, and yet, chicken eggs contain 5% more water than duck eggs. It's no wonder that they taste better.

Protein: The whites of duck eggs contain more protein

than chicken eggs, so these whites will whip up higher when beaten and create more loft in cakes. A 70 g duck egg will generally contain 9 grams of protein. More protein means more binding power, essential for gluten-free baking, especially for those wishing to avoid commercial binders like xantham or guar gum.

Fat: Duck eggs have about 10 grams of fat each, which means added richness of the yolks, keeping baked goods moist and tender without added butter or other dairy goods. Free-range ducks, in particular, provide more long-chain Omega-3 fats and fatty acids (over twice as much as caged chicken eggs), with less than half the ratio of Omega-6 to Omega-3's. These long-chain Omega-3 fatty acids are essential to human well-being, particularly to mental health, and cannot be replicated with vegetable oils.*

Vitamins: Free-range duck eggs contain more essential vitamins than chicken eggs; almost twice as much folate; more than

twice as much Vitamin A and

Vitamin B-6; and five times as much Vitamin B-12! They also contain vital selenium and iron, and are great sources for Vitamins D and E. (According to USDA) The difference is even more extreme when comparing to caged, commercial chicken eggs, of course.

*Most people in America lack the enzymes needed to convert short-chain Omega-3 fatty acids, found in plant oils, into the necessary long-chains (specifically, from 18 Carbon pairs to 22 Carbon pairs). Thus, a good source for long-chain Omega-3 fatty acids in one's diet is essential. Caged animals do not produce these long-chains, however; see

H.D. Karsten, P.H. Patterson, R. Stout and G. Crews (2010). Vitamins A, E and fatty acid composition of the eggs of caged hens and pastured hens.

Our duck flock consists of many breeds:

Anconas

: These beautiful black-and-white ducks have unique patterns of spots on each duck. This makes it possible to recognize and name each one, which is good, because they're the smartest ducks, each with an individual personality. Anconas are a very rare, conservation-status breed of ducks that forage well, while still producing large daily eggs (up to 280 days a year). These ducks are clever, watching the skies for predators, and warning the rest of the flock when to flee for safety from a hawk, or when to keep eating if it's only a crow.

Cayugas

: Calm, black dual-purpose ducks with green shimmers in their feathers, these native American ducks are hardy and endure the cold winters without a problem, even letting snow pile up on their backs without a care. They lay big, blue/green or even black shelled eggs, darker at the start of spring and getting closer to plain white as the summer progresses. They are closer to being wild ducks, and even will sometimes hatch their own eggs!



Khaki Campbells: The smallest of our birds, these buff-colored ducks have been bred for frequent egg-laying and can lay over 320 eggs every year. Don't look to them for brains, though; these are the silliest birds in the flock! They are also the source of the smallest eggs we collect.
Blue Swedish: A medium size and medium production breed, the Swedes can go broody, like the Cayugas. This trait is rare among domesticated ducks!
Weekly egg subscription
Don't go without! Reserve your eggs before we're sold out!
Do you use eggs for home cooking and baking on a regular basis? Want to ensure your supply without having to run to the farmer's market? Sign up for a subscription to reserve your
dozen eggs every week or every other week!
How it works: Contact us by email (mosbysfarm@gmail.com) to sign up. Payments can be handled by cash or check in person, through Paypal online or by credit card through our online store.
When you sign up, you will reserve a dozen eggs from our free range ducks, either every week or every other week, by your preference, throughout the warm, egg-laying season.
You can either pick up the eggs at the farm or arrange to meet locally at a spot in town.
Powered by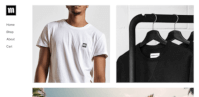 Create your own unique website with customizable templates.