adga Registered Oberhasli dairy goats
We are proud to participate in the breeding of Oberhasli dairy goats to return them to their original traits: smaller, more efficient size and polled (that is, genetically having no horns, which eliminates the need for disbudding or other horn removal techniques). Our goal is to have a herd of petite, efficient, polled Oberhaslis who produce the breed-standard sweet milk.

Our secondary, long-term but arguably more important goal is hardiness. We believe that the current agricultural methods of constantly medicating goat herds to deworm them is weakening the resilience of the breeds and creating drug-resistant parasites. Already in Virginia, parasites like Barberpole worm no longer respond to the majority of medicines approved for goats; to remove these bloodsuckers, farmers now resort to stronger toxins like Cydectin. However, it is perfectly feasible to get goat flocks to survive and resist parasites on their own, if the farmer is willing to breed for that trait long-term.

​We think this will become a more and more important goal as the drugs show less effect year after year; if we want our goats to survive when we run out of medicines that can save them, we have to start breeding for that now!

---
Powered by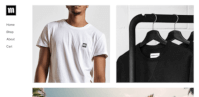 Create your own unique website with customizable templates.