The new farm looks like home now as the snow falls around us, but we're optimistic that spring will hit us soon, perhaps even early this year. In spite of the 6" snow and a night of freezing ice, the weather is predicting sunny weather in the 60's this coming weekend! That'll be just right for kids, lambs and puppies, who will be arriving soon.

T-minus a week or so, and counting down! Bridé has a puppy belly and is starting to fill up with milk. Check back with us for puppy photos soon!
Powered by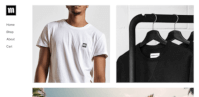 Create your own unique website with customizable templates.