Nightwish & Oghr (named for punk musicians) have quickly learned how to drink the colostrum we feed them by syringe.

The tiny lambs made it through their first night and are adjusting to the big, cold world they weren't quite ready for. Neither is big enough to suckle from the standard, rubber bottle nipples that we would usually use for bottle-baby lambs, so they're drinking from a horse syringe (no needle attached) every hour. Oghr, the little female, is the weaker of the pair and can't really stand up yet; Nightwish has made a few attempts at walking around the kitchen already.
Powered by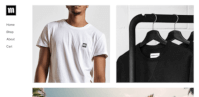 Create your own unique website with customizable templates.